Dealerware powers the future of Rental fleets on a single platform.
Dealerware is the fastest growing automotive fleet management platform in the marketplace. Toyota dealers can streamline their rental operation for all sources of business and achieve higher revenue with Dealerware's Toyota App integration. Toyota Dealers can optimize their entire fleet with automated toll management and direct telematics to get more from every vehicle.
Compare Packages
Enroll
Set Up a Demo
View Brochure
---
Your one-stop-shop for your entire Rental Operation
Achieve rental program success with the fastest, most user friendly 60 second contracting and reservation management tools on the market. Get customers on their way faster with electronic agreements, credentialing, and signature capture. Instantly collect rental fees with one-touch billing from anywhere with the only PCI compliant mobile platform. Manage reservations better than ever with Dealerware's interactive reservation calendar, customizable daily and weekly rates, and specialized agreement terms helping you streamline your entire rental operation.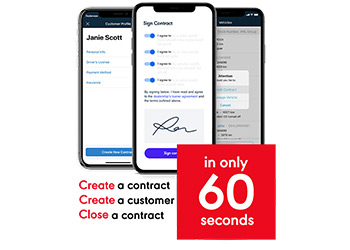 ---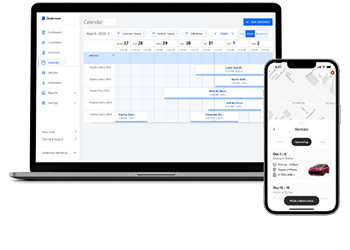 Rental made easy with Toyota App Integration
The Toyota App is fully integrated with Dealerware's Reservation feature, so reservations booked in the Toyota app can be managed using Dealerware's drag-and-drop Calendar. Use the Calendar to quickly view customer and reservation information; then quickly start contracts with our seamless mobile contracting tools.
---
Toyota Auto-Fleeting lets you set it and forget it.
Dealerware's Auto-Fleeting feature takes the work out of adding and removing vehicles. As soon as a vehicle is added into the Toyota Marketplace, it's automatically in-fleeted to your Dealerware account. When a vehicle is removed, it's automatically de-fleeted. Daily syncs keep your fleet up to date, saving you and your team time by removing the need for manual vehicle uploads.

---

Award Winning Implementation and Customer Success
Start contracting with Dealerware in as little as 60 minutes with one-on-one implementation support with a dedicated implementation specialist. Our fleet experts are always available to provide industry-leading support, fast. With an average response time of 24 minutes, they'll guide you through optimizing the Dealerware platform to meet your unique program goals.
---
Native Telematics with Dealerware Connected Car Services
Never lose track of what drives your business with native telematics automatically connecting vehicle data directly to contracts. Connected Car Services provides real-time GPS tracking and off-lot detection and instant mileage, fuel and damage reporting at contract close.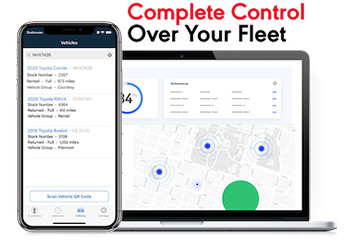 ---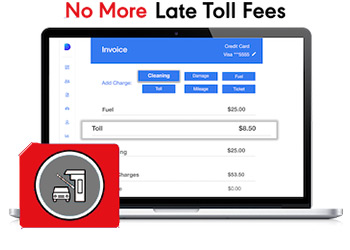 Automatic Toll Management
Remove the hassle of toll processing and fee recovery with automated toll management services nationwide. Recover 100% of toll costs, eliminate late fees, and significantly reduce the time needed to track down and bill your customers with automated toll management, processing and automatic one-time customer billing.